RV Camp Sites
RV pricing starts at $55 / night for 1 truck, 1 trailer, and 1 boat. Any additional vehicle is $5.
Rooms
Temporarily closed for summer season 2020. Thank you to all our customers. We are sorry to close and look forward to opening again soon.
Boat Slips
$25 a night for overnight side-tie parking 
Lodging offered at Lakeview
Lakeview at Pine Flat has exactly what you need for your weekend getaway - whether you're looking for an RV hook-up or a comfortable hotel room. Pets are welcomed with a $20 per night fee. No smoking in any of the rooms. Off season pricing is $5 off on rooms and RV stay.
Pricing as of 2020. Pricing is subject to change.
Suite Living On The Lake!
Our suites are perfect for large families or groups wanting amenities like over, microwave, sink, refrigerator, and more space!
This is our largest suite with 2 bedrooms
This suite has similar floor plans and smaller kitchen areas than suite #15.
Suite #13 & #14 Photo Gallery
This suite has similar floor plans and smaller kitchen areas than suite #15.
Suite #13 & #14 Photo Gallery
Hotel Pricing
Choose from one or two bedrooms with these recently renovated hotel rooms.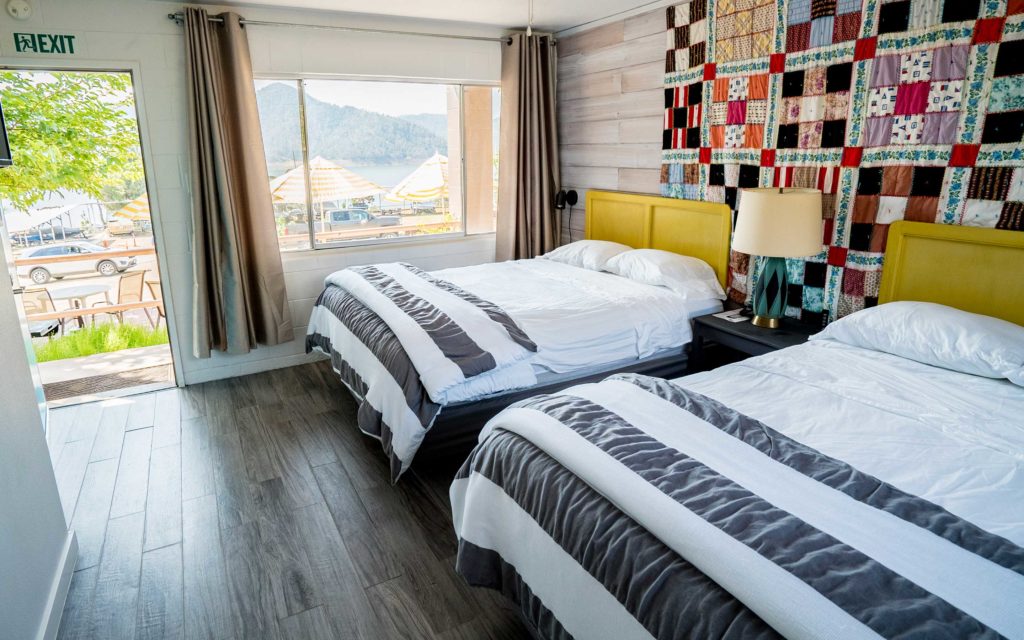 Rooms 1, 2, 3, 5, & 6
2 Queen Beds, AC/Heat, TV with Dish
$145/night
2 night minimum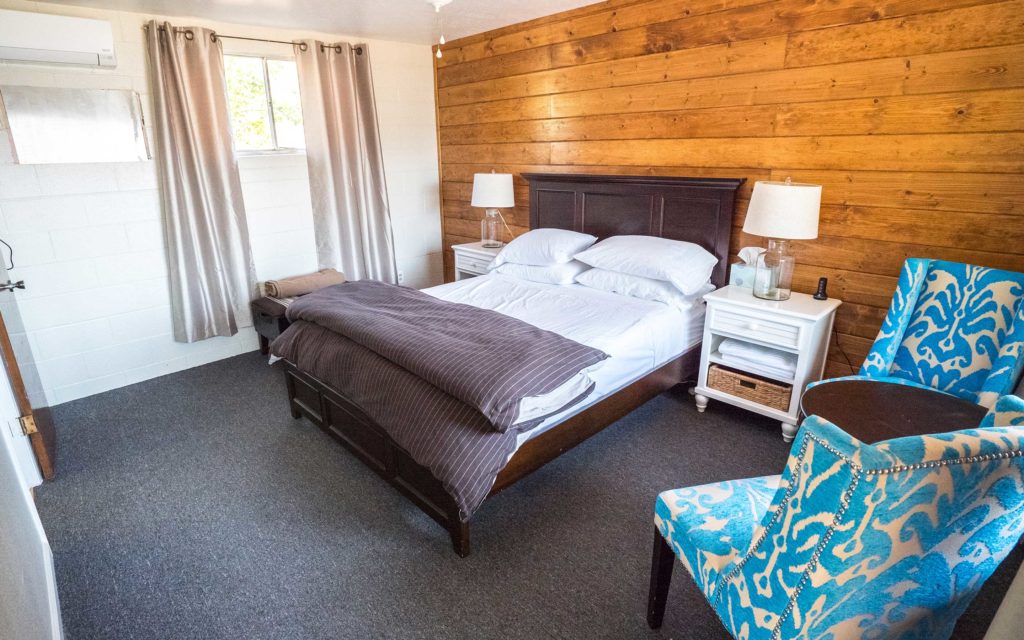 Room 4
1 Queen, A/C Heat, TV with Dish
$135/night
2 night minimum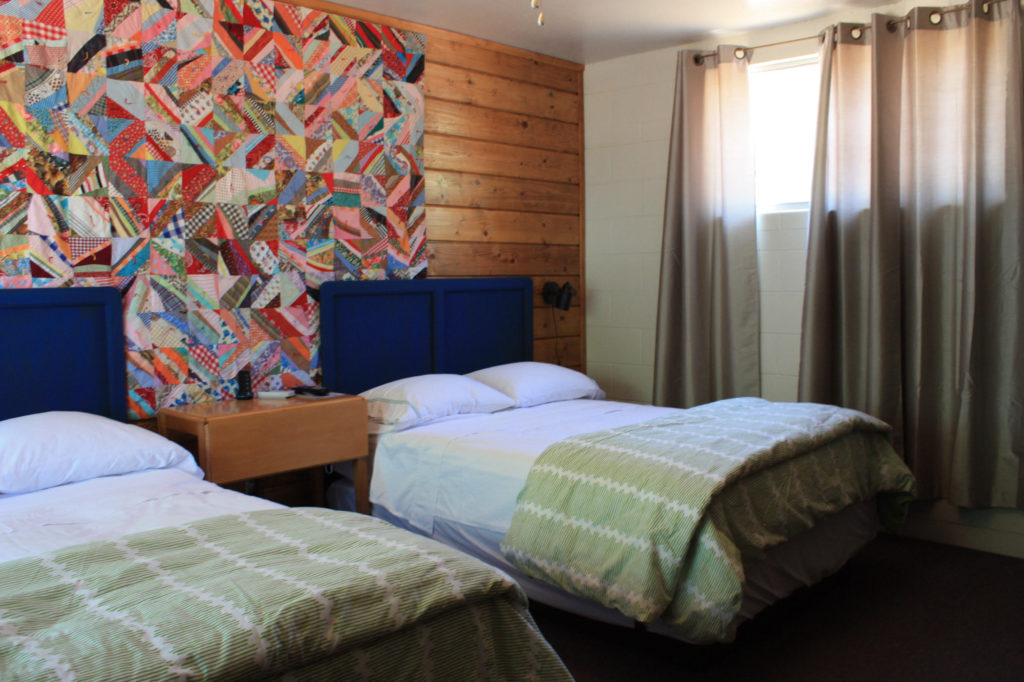 Upstairs Rooms 7, 8, 9, 10, 11, 12
2 Full Beds, AC/Heat, TV with Dish
$120/night
There is a $25 minimum fee but it will not be in addition if there is other fees. There may be fees or no refunds at certain times.
October - January Cancellation Policy:
-Single room cancellations are accepted up to 1 day in advance
-Group cancellations of 3 or more rooms will have fees like the summer weekend rates.
February - September Cancellation Policy:
- Cancellations on non holidays times, non weekends (M-Th) are accepted up to 48 hours in advance +$15 charge.
- Cancellations on holidays times are 1 month in advance without penalty. NO REFUNDS for cancellations within 30 days.
- Cancellations on weekends (Fri, Sat, or Sun) are before 2 weeks, after 2 weeks, the fee is 50% of total stay.
Two small dogs under 10 pounds or 1 medium dog are allowed. Dogs are not to be left in rooms alone. Dogs must be on a leash outside the room. must be given advanced notice. 
All reservations require CC on file.
1 night stays for new guests arriving outside business hours (after 5pm) will be charged the full amount the day of arrival and the receipt left in your room. New guests with additional nights, can pay the remaining balance with cash or credit in person at the marina store. This can be waived for repeat customers. Holidays will need full payment made ahead of time.
During the summer payments can generally be made in person upon arrival if before 7pm on Saturdays or 5pm on all other days. If arriving after closing, please come down and pay the following day. If a guest has a balance remaining upon departure, the credit card on file will be charged. Some winter reservations may require phone payment as there may not be an employee on site during your stay.
1/2 payment during the summer is commonly paid 2 weeks before check-in date. All deposits go towards final balance.
Cash needs a credit card verification for a total amount of room. Accepted Credit Cards- Visa, MC, Discover
Check-in time is between 1pm and 5pm at Lakeview Marina Store.
Please call (559) 787-2207 please leave a message with your name/phone number/rental time/type/number of people
Blender, toaster, coffee maker and coffee supplies, salt and pepper
cups, plates, bowls, coffee mugs
silverware and steak knives
mixing bowls, cookie sheet, induction cooking pans and pots
pitcher, wine opener, can opener, knives, cutting boards, tongs, spatula, measuring cups
dish towels, oven mitts, drying rack, paper towels, hand soap, dish soap, sponges, trash bags